If you're a fan of All-Clad cookware, you might be wondering if it's safe to use it in the oven. The good news is that All-Clad cookware is generally oven-safe, but there are a few important things to keep in mind before using it for baking or roasting.
In this article, we'll explore the topic of whether All-Clad can go in the oven, discuss the factors that affect its oven-safe status, and provide some tips for using All-Clad cookware in the oven.
So, let's dive in and find out more about this essential kitchen question.
The Lines And Their Oven Safe Ratings
A quick guide to the oven-safe temperature ratings for each of the All-Clad cookware lines.
| Cookware Line | Maximum Oven Temperature (°F) | Maximum Oven Temperature (°C) | Core Material |
| --- | --- | --- | --- |
| D3 | 600 | 315 | Stainless Steel w/Aluminum Core |
| D5 | 600 | 315 | Stainless Steel w/Aluminum Core |
| G5 | 600 | 315 | Stainless Steel w/Graphite Core |
| Copper Core | 600 | 315 | Stainless Steel w/Copper Core |
| HA1 | 500 | 260 | Hard-Anodized Aluminum Nonstick |
| B1 | 500 | 260 | Hard-Anodized Aluminum Nonstick |
| Essentials | 500 | 260 | Hard-Anodized Aluminum Nonstick |
| FusionTec | 500 | 260 | Ceramic w/Steel Core |
*D3, D5, and Copper Core each have non-stick frying pan options. These are limited to 500°F or 260°C in the oven.
Oven-Safe Characteristics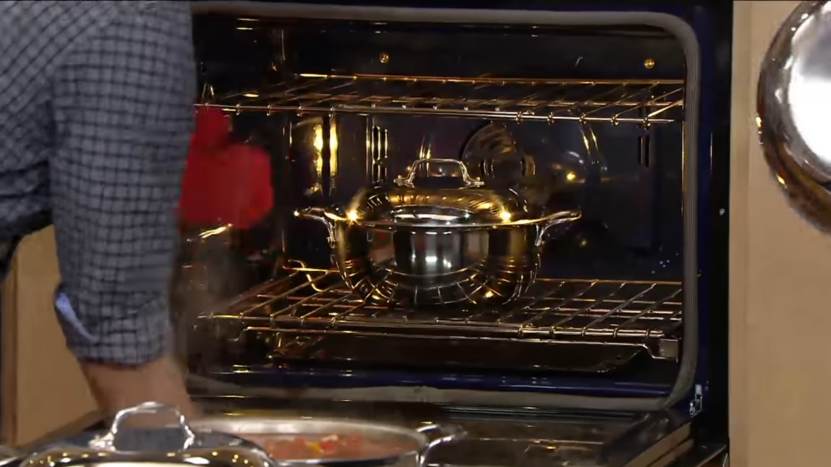 While All-Clad pots and pans perform admirably in the oven, their accompanying lids are a different story.
Regrettably, none of the lids offered by All-Clad are oven safe.
Stainless steel lids are used in all of All-stainless Clad's steel lines, as well as their FusionTec ceramic series. In addition, unlike the strong and durable cookware, the lids are significantly thinner and more prone to warping in a hot oven.
Now, I've used the stainless steel lids in the oven without incident. But, I try not to use them at temperatures above 350 degrees Fahrenheit.
This is obviously a use-at-your-own-risk situation, as it is not covered by the All-Clad warranty.
The nonstick lines, on the other hand, all have tempered glass lids. A bent metal lid is one thing, but glass lids can shatter when placed in the oven. In my opinion, it is not worth the risk.
Precautions to Take for Safe Usage of All-Clad Cookware in the Oven
Lids aside, All-Clad cookware does great in the oven. But, there are some things to be aware of in order to protect your pots and pans.
Handles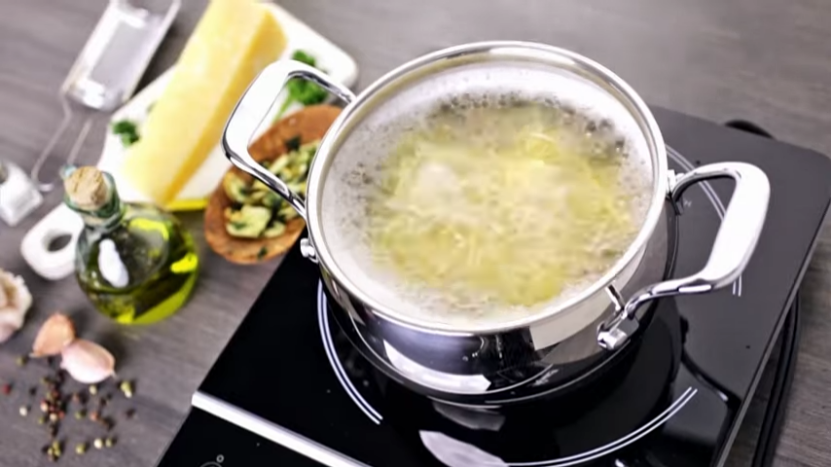 All of the All-Clad series have solid stainless steel handles. They are tough and stay cool when used on the burner, but they get quite hot when used in the oven.
Anticipate them to be as hot as the oven, and always handle them with an oven mitt or towel. It's also a good idea to keep a towel or potholder on the handles after they've been removed from the oven. This prevents unknowing bystanders from unintentionally grabbing the ripping hot handles.
Warping
All-Clad cookware is highly regarded for its durability. Their fully clad stainless steel lines are incredibly resilient and can withstand heavy use and harsh conditions in professional kitchens without warping.
Even when exposed to high temperatures for prolonged periods, such as being stored in a 500 F oven throughout service, these pans hold up exceptionally well. This ensures that they are always ready for use and eliminates any preheating time.
Although such extreme practices may not be applicable in home kitchens, the fact that All-Clad pans can endure such conditions highlights their exceptional sturdiness.
On the other hand, All-Clad's hard-anodized non-stick options are constructed from heavy-gauge aluminum. While this material is also highly durable, some minor warping has been reported in rare cases. However, this can be easily avoided by following basic non-stick guidelines and ensuring proper use.
Discoloration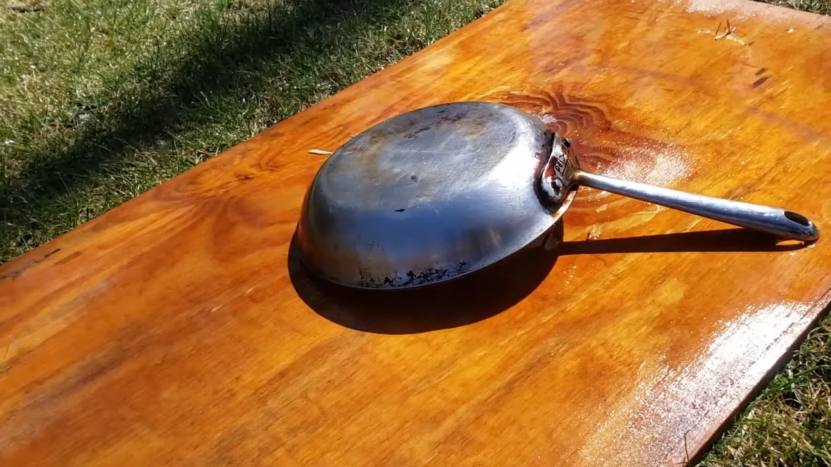 The appearance of rainbow discoloration on stainless steel cookware is a common occurrence that can be bothersome. However, it is merely a cosmetic issue and does not affect the cookware's safety, health, or performance in any way.
This effect, commonly known as "heat tint," is produced when the chromium in the stainless steel reacts with high temperatures. Cookware used at very high temperatures is more susceptible to this phenomenon.
If the rainbow discoloration does not bother you, you can continue using your cookware as usual. Nevertheless, you can easily remove these "stains" by using vinegar or a cleaner such as Bar Keepers Friend.
In the event that the discoloration is more severe, I have created a guide that provides steps to restore your stainless steel cookware to its original condition.
Heat tint
This is simply a stain, rainbow blue like, or rather a splotchy discoloration that results from overheating the cookware in the oven.
If I could explain this in simple terms, when stainless steel is overheated, the chromium in the steel forms an oxidized layer that does the reflecting at a very different wavelength of light leading to a heat tint.
To stay away from this, just don't exceed the stipulated safe temperature. A mixture of water and vinegar(white) or scrubbing with bar keepers friend could help remove the heat tint.
Is All-Clad A Good Choice For Cooking In The Oven?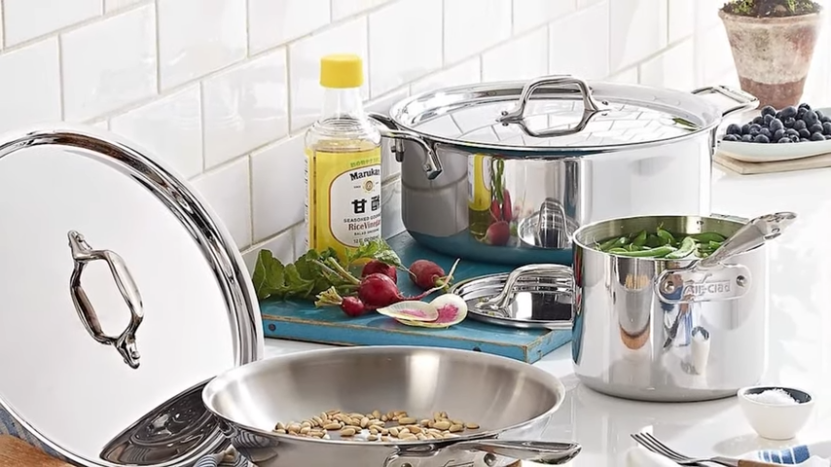 When it comes to cooking in the oven, All-Clad is an excellent choice, particularly their stainless steel cookware. Among All-Clad's lines, my personal favorite is the D3, as it offers an ideal balance of weight, performance, and affordability. It is also a popular choice in many top restaurants throughout the United States.
For oven use, the sauté pan and frying pan are two of the best pieces of cookware. They excel at searing meat on the stove and finishing the cooking process in the oven, resulting in even cooking.
While the larger pots and saucepans from All-Clad can also be used in the oven, they may not be as practical for oven applications.
For long braises in the oven, I prefer to use a Dutch oven. These are thicker and heavier, and their lids are designed for oven use, making them perfect for extended cooking times.
If you're searching for a less expensive alternative to All-Clad, Calphalon offers some great options. Their fully clad cookware is fashioned after All-Clad, and we have compared the two brands side-by-side for your convenience.
FAQs
What should you not do with All-Clad?
To ensure the longevity and performance of All-Clad cookware, it is recommended to avoid using metal utensils, exposing it to extreme temperatures, using harsh cleaners or abrasive sponges, and putting it in the dishwasher.
Do chefs use All-Clad?
Yes, many professional chefs use All-Clad cookware in their kitchens due to its durability, excellent heat distribution, and overall quality.
All-Clad is a trusted brand in the culinary industry and is a popular choice among chefs and home cooks alike.
Can All-Clad HA1 go in the oven?
Yes, All-Clad HA1 non-stick cookware is oven-safe up to 500°F (260°C).
However, it is recommended to avoid using high heat in the oven as it may cause damage to the non-stick coating.
Always follow the manufacturer's instructions and use oven mitts or pot holders when handling hot cookware.