Have you ever found yourself in the middle of a kitchenware battle, constantly debating whether to go Hexclad or All-Clad? It might seem like it's a lose-lose situation, but is there really a clear winner?
We're here to help you settle the debate once and for all. From material to performance, we'll compare Hexclad vs All-Clad cookware so you can make the best decision for your needs. Let the cook-
Comparing cookware can be a daunting task because there are so many options. Whether you're looking for nonstick, stainless steel, or something else altogether, you have an almost endless selection to choose from. But when it comes to the comparison of All-Clad and Hexclad cookware, there is yet another layer of complexity.
Both All-Clad and Hexclad cookware promise superior performance, but which one performs better? We've taken a close look at each to determine who really has the edge over the other. In this guide, we'll cover the key differences between these two leading brands of cookware and explain why they are both worth considering. We'll also provide our final verdict on which one offers a better cooking experience overall.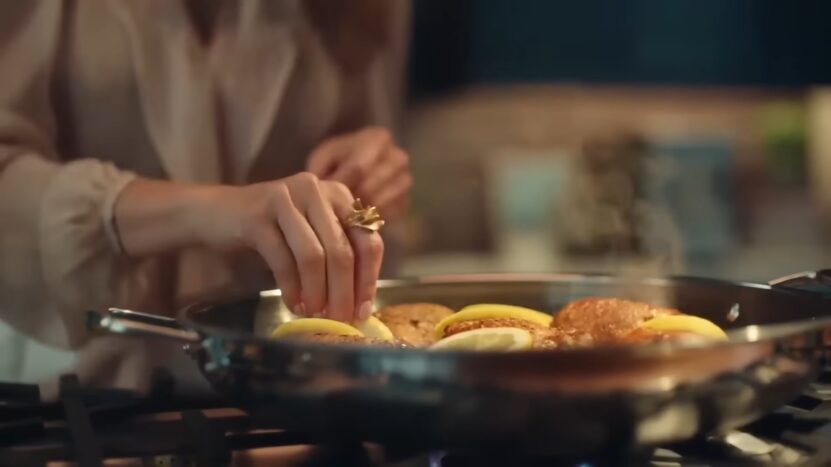 History of Hexclad and All-Clad Cookware
All-Clad was founded in 1971 and has since become renowned as a leader in the cookware industry. All-Clad cookware was the first to use bonded metals – combining layers of stainless steel and aluminum into one piece of cooking equipment, allowing heat to travel more evenly throughout a pan or pot. All-Clad cookware is handcrafted in Pennsylvania, USA and made with care, so that it has great durability and can last for many years.
Hexclad came onto the scene in 2018 but soon made a name as its unique patented hexagonal design both allows it to distribute heat more evenly and gives it more nonstick properties than traditional cookware. This highly stylish cookware is also relatively lightweight compared to other metal pans on the market yet does not compromise on durability. Furthermore, Hexclad is dishwasher safe making it extremely easy to clean.
Durability and Performance Comparison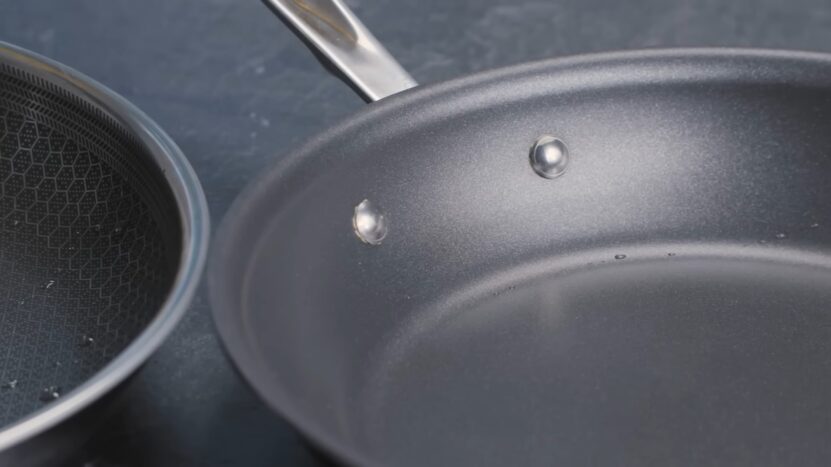 Hexclad and All-Clad are two of the leading cookware brands available on the market. When it comes to determining which one is the better choice, both have unique advantages that make them stand out. Here is a durability and performance comparison so you can make an informed decision for your kitchen needs.
When it comes to durability, All-Clad is renowned for its longevity thanks to its meticulous three-ply construction consisting of a stainless steel core, an aluminum core and magnetic stainless steel exterior. This ensures even heat distribution while cooking, while also providing a robust and stain-resistant surface that will last for years.
In comparison, Hexclad stands out with its revolutionary hexagonal raised pattern on its stainless steel surface, which not only makes it more nonstick than traditional cookware but also adds extra strength and scratch resistance due to its raised edges that protect against wear and tear. Hexclad's high-end finish ensures easy cleanup as food residue slides right off with just a wipe of paper towel or cloth while still helping maintain rust prevention over the years.
When it comes to performance, All-Clad offers exceptional heat conduction thanks to its multi-layered construction with optimal heat distribution from edge to edge making it perfect for gently simmering sauces or searing meats without hot spots affecting cooking results. The bonded construction also prevents warping ensuring even heat conduction for years of reliable use.
Hexclad performance rivals many other leading brands thanks to its patent pending combination of both standard triply stainless steel base and top layered angular geometry at the exterior centred around seven layers of metal in each pan so you get optimal heat reactions throughout while cooking almost anything from eggs or bacon all the way up sear steaks effortlessly without burning or sticking concerns.
Design and Aesthetics Comparison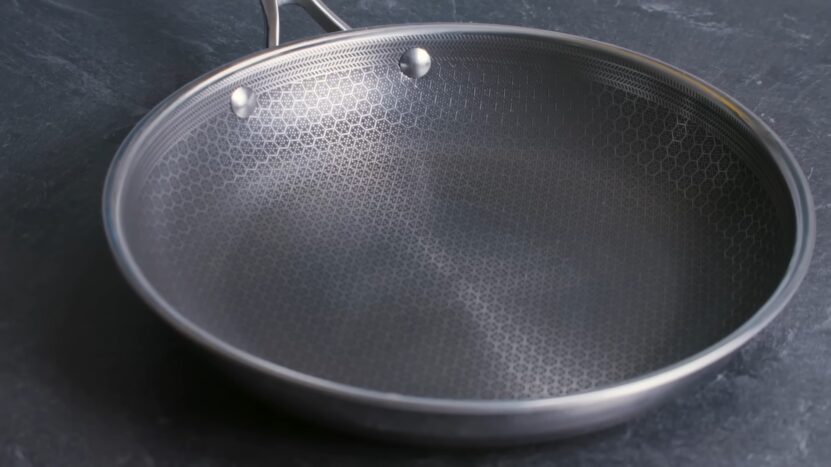 When comparing Hexclad and All-Clad cookware, there are several design and aesthetic aspects to consider. Both differ in their materials, shapes, and sizes ranging from pots to pans.
Hexclad cookware boasts a unique seven-layer construction where the main layers are three different stainless steel alloys and a non-stick coating in between. A hexagonal ridged pattern is added, giving the pans both an aesthetic appeal and improved heat conduction. On the other hand, All-Clad is built from several single layers of stainless steel with a non-stick interior coating. This ensures an even heat distribution across the surface of the pan.
When it comes to shape and size choices for these types of cookware, Hexclad offers a variety of eco-friendly pans with five unique roasting options in addition to traditional skillets.
Furthermore, impressive low sides make it easy to flip foods over or mix ingredients together without the mess. Conversely, All-Clad offers multiple sizes of rectangular roasting pans that are perfect for larger meals like Thanksgiving dinner along with other standard shapes such as saucepans, stockpot, and fry pans.
Although aesthetics won't affect performance, customers can choose between stylish black or classic metal colors depending on their preference when selecting either brand's products. If you're a person that finds aesthetics important, you will love the art of plating as you can get very creative there.
In conclusion, both Hexclad and All-Clad have numerous designs leading them beings suitable for various culinary needs; however, which one is better depends on personal circumstances such as factors pertaining to frequency of use or expertise level in cooking!
Price Comparison
Price is an important factor when it comes to making a decision between Hexclad versus All-Clad cookware. Hexclad cookware is the more affordable option; however, the price of All-Clad varies depending on their product line. On average, the cost of an All-Clad skillet or saucepan ranges from approximately $100 up to $400 or more.
In comparison, the cost of Hexclad cookware is comfortably less expensive than its All-Clad counterpart. You can find a 10" skillet for around $60 and any size up to 14" will not exceed $100. There are also additional discounts available when you purchase multiple pieces at once which makes Hexclad a great option for budget-conscious consumers looking to stock up their kitchens with quality cookware.
It should also be noted that both brands use high-grade stainless steel meaning that even though one might be priced competitively lower than the other, they both should offer excellent performance in their own regard. Ultimately your decision comes down to personal preference and budget restrictions which means you may have to ask yourself what kind of features are most important for your kitchen needs.
Cleaning and Maintenance
When considering a cookware set, cleaning and maintenance are important features to consider. Both Hexclad and All-Clad are made from high quality stainless steel, which means they should be easy to clean and maintain.
But there are some differences between the two based on their respective construction methods:
Hexclad cookware is composed of an exterior layer of magnetic stainless steel with a unique patented non-stick inner layer made with hexagonal-shaped particles. This material is also scratch resistant and dishwasher safe, making it easier to clean and maintain.
All-Clad cookware is composed of several layers of aluminum and stainless steel layers that have been bonded together for optimal heat transfer. The pans in this range have a classic stainless steel finish that does not contain any non-stick chemicals or coatings – meaning it may require additional effort to clean unwanted residue from the cooking surface without scratching or damaging the pan's finish. All-Clad pans should not be put in the dishwasher, so you may need to hand wash them more often than Hexclad pans.
Pros and Cons of Hexclad vs All-Clad Cookware
When it comes to cookware, two of the most popular brands are Hexclad and All-Clad. While both offer excellent quality, knowing which one is right for you can be tricky. To help you make an informed decision, here are some pros and cons of Hexclad and All-Clad cookware:
Hexclad:
Pros
Durable construction
Excellent heat distribution
Nonstick coating
Hexclad cookware has a patented seven-layer design that results in unmatched durability. Its hard anodized aluminum exterior is scratch, stain, and corrosion resistant making it incredibly long-lasting.
Its unique hexagonal pattern provides enhanced heat flow across the cooktop for even cooking performance. The Cookware has 7 layers which ensures fast and even heating throughout the bottom surface of the pan for perfect cooking results every time.
The nonstick layer seeps into the hexagon pattern resulting in effortless food release and easy cleanup every time. The nonstick coating combined with its steel oxide-infused ceramic layer ensures that your food won't stick to the pan and will come out intact no matter how long you cook it for.
However, Hexclad cookware is pricier than other brands due to its high-quality construction and multiple layers of protection, but budget shoppers may be better off opting for a less expensive alternative such as All-Clad Cookware.
All Clad Cookware:
Pros
Affordable
Durable construction
All Clad Cookware is more budget-friendly than its counterpart Hex clad so if price is an issue then this may be your best option.
The range features stainless steel exteriors layered with aluminum cores that provide even heat distribution making it ideal for all cooking needs while ensuring long-lasting performance without discoloration or warping over time as some other cheap brands can do with extended use.
On the other side, unlike its counterpart Hex clad which uses green processes, All clad does not use any PTFE/PFOA Free processes so regular maintenance will be required to ensure no chemicals build up over prolonged usage.
Conclusion
It is difficult to say definitively which type of cookware is better as each has its advantages and disadvantages. Variations such as the number of layers, handles and lids impact the performance of both brands. Ultimately, it depends on an individual's cooking needs.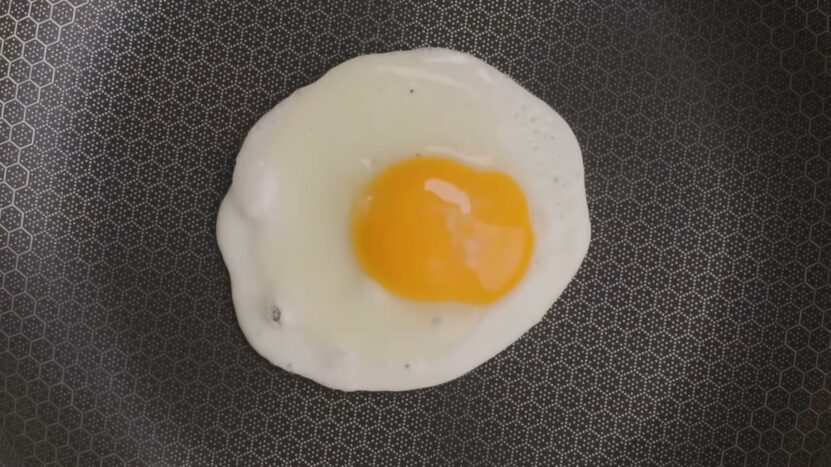 Hexclad cookware offers superior non-stick capabilities because of its hybrid technology and the stainless steel hexagonal pattern on the surface which helps to release food quickly and easily. The unique design also helps it to be used in ovens up to 500°F (260°C).
On the other hand, All-Clad is made of a combination of metals that give superior heat conductivity so you can be assured that your food will be cooked evenly throughout. It also offers thicker walls which make it more durable than Hexclad cookware.
It is important to remember that both brands offer quality products but it is ultimately up to you to decide what type works best for your cooking needs and preferences.