Need a stove guard to keep your stovetop or other surfaces neat and clean? You came to the right place!
We're here to help you save time and effort on dull research. Instead of spending hours trying to find the best option on your own, we'll provide you with some of the best choices currently on the market. Once you go through our list of the 5 best stove guards in 2023, you'll be ready to purchase your perfect one in a matter of minutes. That is not all, though!
We'll also provide you with a neat and easy-to-read buying guide that will help you identify the best stove guard out of the bunch any time and anywhere! Let's get right into it.
Our Top Picks of Stove Guard
1. Linda's Essentials Stove Guard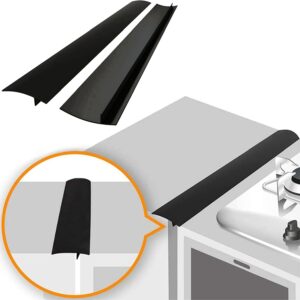 We'll start our list with Linda's Essential stove gap cover that will protect your stove to the fullest extent. This best-selling stove cover will help you get rid of the hard-to-clean gunk and debris stuck in the gap between your stove and countertop, but that is not all. It can get rid of the gunk and debris on any other appliance in your household as well!
This product is heat resistant, which means that you won't have to worry about your safety at all. The improved and upgraded food-grade silicone that this stove guard is made of ensures a quality and safe product. It is also super easy to install since this 21inch universal gap cover will sit perfectly in place on every stovetop. The non-slip and flexible silicone will conform to your stove or counter surfaces, as well as adapt to any uneven space. You can easily customize it to your stove by cutting it with scissors to the desired size.
The anti-dust and smudge-resistant design will make this product very easy to clean and maintain. You will be able to keep your gap cover clean and stain-free with ease, and even put it in your dishwasher if you don't want to struggle to clean it by hand.
Pros
Anti-dust
Smudge-resistant
Flexible
2. Gosmol Stove Guard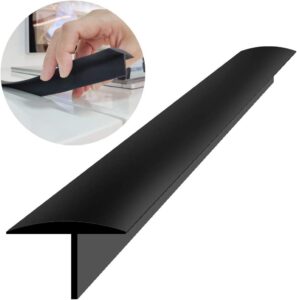 The next stove guard on our list is the Gosmol one that is made to last! This stove gap cover is perfect when you need it to fit tight in place and don't move easily. You will be able to clean it effortlessly since it is stable and made of silicone which is super easy to keep clean.
If you need to cut your stove guard for better use, you can do so with minimum effort. Use scissors to cut it into any size that you need to fit your stove, counter, appliance space, fridge desk, or any other place perfectly.
The flexible silicone that this product is made of is dishwasher safe, so you can put it into your dishwasher and have it ready in no time. Forget about cleaning and scrubbing by hand and wasting time when you have a much more convenient option at your fingertips!
Pros
Durable
Easy to clean
Multi-purpose
Cons
Needs to be cut or trimmed
3. Cooks Innovations Stove Guard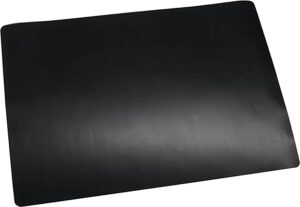 If you're in search of a stove guard that is durable, easy to cut, and dishwasher safe, this Cooks Innovations one is a perfect choice! This stove guard can be trimmed to fit almost any oven and air fryer you can think of. Instead of stressing about finding the right size you need, you can get this high-quality and durable one and make it fit anything you need.
The 100% non-stick lining will keep the bottom of your oven clean at all times, no matter what you're baking. You can look forward to it protecting your oven from all drops, spills, and drips, whether you're making pie, pizza, casserole, or whatever else! The liner is thin and lightweight, so you will have no issues removing it and cleaning it whenever you need to. It conforms to gas ovens and catches spills and splatters efficiently.
You can also say goodbye to scrubbing and cleaning by hand. Remove this liner from your stove or any other surface with ease and put it in your dishwasher to have it clean in a jiffy. If you wanted to get a gift for someone who often cooks, this product will prove as a super practical and neat idea as well!
Pros
Non-stick
High quality
Dishwasher safe
4. Sunrich Stove Guard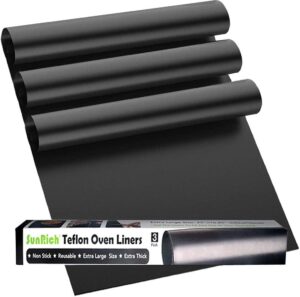 The Sunrich Stove guard we have in store for you is an ideal option if you're looking for a non-toxic and healthy stove guard for your stove (or anything else). There is a variety of reasons why this stove guard will prove as a perfect option, and we summarized them all into a neat and user-friendly list—check it out:
It is non-toxic—This stove guard is made of premium quality non-toxic materials and 100% CERTIFIED PFOA and BPA FREE, and there won't be any bad smells coming from it. It will also not produce any harmful chemicals and substances that could pollute your food when made at a high temperature.
It is extra thick, durable, and reusable—This reusable nonstick oven mat is made to fit most standard-sized ovens, and it is also 30% heavier than other liners on the market. That means that it will likely outlast your traditional liners and won't melt at super high temperatures. Not only is this liner long-lasting, but it is also quite easy to install. Since it is non-stick, you will be able to reuse it and save precious time and money
This liner is made of high-quality and reusable PTFE-coated fiberglass fabric, and you can use it time and time again without worrying about a thing. You can use it for electric and gas ovens, microwaves, and toaster ovens, but it will also work amazingly as a pan liner or baking/cooking mat. Trim it to meet your exact oven dimensions for a perfect fit, and have a blast using it.
Pros
Non-toxic
Durable
Reusable
5. DSYJ Stove Guard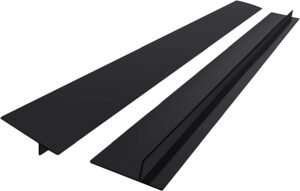 The last stove guard on our list is the DSYJ one that is excellently crafted and very heat-resistant. You can forget about worrying about your safety and cook with peace of mind once you get this stove guard.
The superior-quality materials used to make this product guarantee its durability and ease of use. The upgraded food-grade silicone material that this stove guard features will not only prove high in quality and durability, but it will also be extremely easy to clean. All the hard-to-clean debris and gunk that gets stuck in the gaps regularly will be thing of the past when you have the DSYJ stove guard.
The universal 25-inch size will fit perfectly on the majority of stovetops. Since the flexible silicone is non-slip, it will conform to your stove easily and stay fixed in place. This will provide you with ultimate convenience when it comes to both using this liner and keeping it clean. The anti-dust and smudge-resistant design helps you keep your gap cover clean and stain-free at all times.
You can put this liner into your dishwasher whenever you want or clean it by hand with soap and water, the choice is yours. What's best, this stove guard also has terrific recoverability, so it will not be prone to creases. Once you install it, simply smooth it by hand, and the creases will gradually decrease quickly.
Pros
Well made
Heat-resistant
Excellent durability
Cons
Needs to be cut or trimmed
Buying Guide
If you aren't sure what to look for when choosing the best stove guard, we are here to help. Finding the ideal product that will fit all your needs perfectly is a bit difficult when you don't know what exactly to pay attention to. Some people aren't used to purchasing these types of products often, and that is why they don't know what to look for and get confused when they have to go through this shopping journey. Luckily, we're here to cut your work in half and provide you with all the help you need!
With our list of the most important factors to consider when purchasing the best stove guard in 2023, you'll be ready for your shopping journey in a jiffy! Check out the list below to see what factors you should consider during this journey and why:
1. Materials
The material used to make your stove guard is the first and most important factor you need to pay attention to when purchasing the product. You don't want the product to break or tear after only a few uses, and that is why it is very important to choose one that is made of high-quality and durable materials. Thankfully, you don't have to spend an eternity searching for this. You can find this information by checking product descriptions, so make sure you do that before making up your mind and deciding which product to get.
2. Quality
Quality is the next factor you should consider when choosing the best stove guard. It is known that higher-quality products are generally better than lower-quality ones, but what does that really mean? It means that a high-quality product is made with better and more durable materials that typically last a lot longer and provide much better performance than a low-quality one.
If you want your product to boast neat and cool features, chances are higher-quality products will provide you with that, while lower-quality products won't. That is why you need to check product descriptions and customer reviews to ensure that the quality of the product you want to get is high.
3. Ease of Use
The product's convenience and ease of use is the last thing you should factor in when choosing the best stove guard. It's very important for a stove guard to be easy to clean and maintain. No one wants to spend hours scrubbing and struggling to wash the product.
That is why looking for one that is made of materials that are easy to clean and maintain is essential. You can look through product descriptions, customer reviews, and pictures of the product, to gather all the necessary info and conclude which product is worth buying.
FAQ
1. How Do I Clean My Stove Guard?
If you want your stove guard to last as long as possible and to prolong the service life, we recommend cleaning it using soap and warm water. That way, you won't risk putting any strong chemicals on it and damaging it by accident.
2. How Long Will My Stove Guard Last?
This depends on a variety of factors, including the product's quality, material, brand, how often you use it, and so much more. However, if used correctly, stove guards can last anywhere from one to two years before wearing out.
3. What Is the Best Stove Guard Material?
There are several materials that are excellent when used for stove guards. Teflon-coated fiberglass is considered one of the best since it sits flat on your stove and provides the ultimate convenience and ease of use.
Conclusion
Our list of the best stove guards currently on the market should provide you with an excellent option that fits all your needs. If, however, you don't manage to find exactly what you were looking for by checking our list, you need to make sure that you still get a quality and durable product.
To ensure that the stove guard you buy is well made and high in quality, follow our buying guide. It will tell you all there is to know about shopping for stove guards like a pro whenever and wherever you want to, and the best part is that it will take only a few minutes!